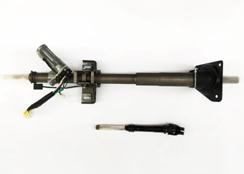 Automotive steering column and steering shaft assembly are installed on connection components between the steering wheel and steering gear, which is mainly used to control the direction of the automobile, transmit the torque and absorb the energy of an automotive when it is hit. In order to meet the driver's comfort requirements, the up -down and forward- backward direction of steering string can be adjusted. The anti-theft lock function of the car can be realized after being connected with the ignition lock installation,
According to the structure type, the steering column can be divided into mechanical adjustable angular type, electric adjustable elevating type, pneumatic adjustable angular type, collapsing absorption type, ordinary type and so on.
The steering inner articulated shaft can be divided into: ball type, nylon coating type, nylon injection type, collapsing absorption type.
NHI has many years of development and manufacturing experience of automotive steering column and steering shaft. The products have been approved by ISO9001, QS9000, IATF16949 and other international quality system certification.
The products of steering column and steering shaft have the characteristics of stable performance and reliable quality with supply capacity of steering system assembly modularization.