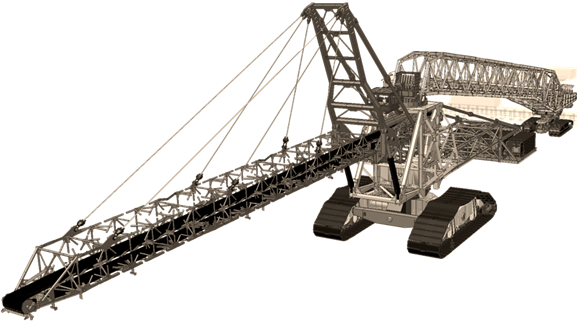 Spreaders are the machine offering stacking and discharging solutions for bulk materials at the dump sites or end of the lines of other bulk material conveying and discharging applications, widely used for the mining process of various large-scale mines (coal mine, non-coal mine) and the excavation projects of large-scale earthworks, gravels and rocks.   
The spreader shall be sorted by its structure into boom type, single support type, single C frame type, double C frame type, double support type and extension type. It can also be sorted by its type of traveling unit into crawler type, walking type, track type and walking track type spreaders.  
NHI spreader has advantages of simple structure, good movability, easy installation, operation and maintenance and stable and reliable service. The machine has a wind range of models with capacities ranging from 1500t/h to 10000t/h, length ranging from 30m to 300m and equipment working weight varying from 50 tons to 4000 tons. To suit the applications in special conditions, a mobile cross-pit spreader system is developed with discharging boom length as 200 meters. The spreaders of specific models and sizes can also be tailor-engineered for the application and built to order to meet the requirement of the client and the site conditions.  
Our spreaders has been mainly applied in Kazakhstan.