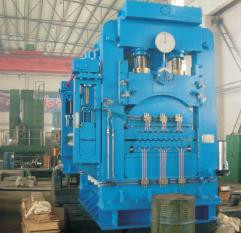 Roller type plate straightening machine is widely used in rolling mills, shipyards, nonferrous metal processing plants, bridge factory and metal structure factory etc. it can be used for ferrous and non-ferrous metal plate single time straightening, and also for skin pass system, opening plan system etc. to straighten the shear line on line. The scope of straightening thickness is from 0.5mm to 32mm and the max. straightening width is up to 5000mm.
Roller type plate straightening machine is divided into four types and ten kinds of specifications. It includes five-roller style, seven-roller style, and nine-roller style and so on until twenty-three roller style etc. According to the application of industry division, four-fold type straightening machine is used for ferrous metal straightening, and six-fold type is used for non-ferrous metal straightening.
NHI has developed the straightening machine for many years; it has the advantages of advanced and reasonable structure, good performance, convenient and reliable use, and high straightening accuracy. NHI can design and manufacture high, medium and low-grade straightening machine, according to the requirements of buyers. The driving system can be electrical or hydraulic, and the roll balance system can be spring style or hydraulic style. In order to provide straightening machine work efficiency, NHI designed and developed the roller fast changing device, upsetting roller device,roller cleaning device etc. In 2009, NHI exported the eleven-roller plate straightening machine farthest to Morocco in North Africa, and got the foreign customers praise.