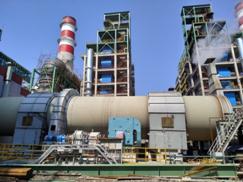 Drum mixer is one of main equipment of sintering process line. Its function is to moisten and mix the configured sintering ore mixture, so that the moisture, materials and ingredients in the mixture are mixed evenly, and finally the particulate materials are formed into pellets that meet the process requirements.
According to different function, it can be divided into primary mixer and secondary mixer. The primary mixer is mainly used to mix and wet material; The secondary mixer is mainly used to granulate material. Finally, the material shall meet the requirements of uniform composition, moderate moisture and good air permeability.
With the rapid development of sintering industry, drum mixer produced by our company meets the current market demand. Drum mixer has complete model and specification. After years of production, installation and operation practice, the product has been continuously innovated and upgraded, and the product technology has reached advanced level. Drum mixer manufactured by our company has advantages of simple structure, reliable performance, high output, easy operation, convenient maintenance, safe to use, etc., and has been widely used in sintering production. Our company has comprehensive independent design and development capabilities, strong large-scale equipment production and manufacturing capabilities and rich equipment installation and operation experience, and can provide professional technical support.