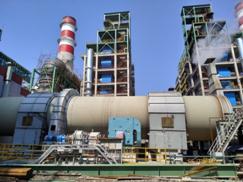 Cylinder mixer is one of the main equipment of sintering process line. It is sued to make the prepared raw materials of sintered ores wetting and mixing, so that the water, materials and ingredients in the mixed ingredients can be obtained uniformity and the particulate materials in the sintered materials can be combined into suitable pellets.
According to its structure characteristics, the equipment can be divided into: the primary mixer is to mix and moisten the material; the secondary mixer is mainly used to granulate the material to meet the requirements of uniform composition, moderate moisture and better air penetrability.
With the rapid development of sintering industry, the drum mixer manufactured by our company can meet the current market demand, the models and specifications are complete and it has been applied well in production practice in the continuous production practice after several times of product upgrade. Due to its advantages of simple structure, reliable performance, high yield, easy operation, convenient maintenance and safe application, the drum mixer manufactured by NHI has been widely used in sintering production. The process technology improvement of drum mixer in our company has greatly promoted the development of sintering industry in China.