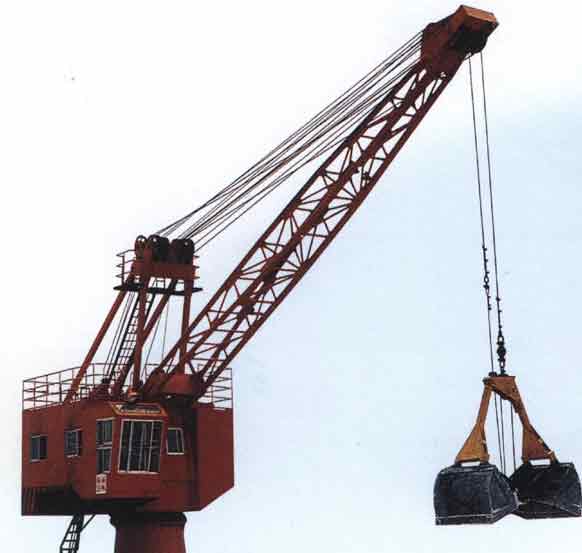 Stationary ship unloader is a 360o slewing type stationary crane for loading and unloading bulk materials used at ports and jetties, which can be applied for terminals, thermal power plants, storage yards, stacking areas and plant areas. It is designed to suit the needs of frequent and continuous operation for loading and unloading bulk materials with the grab bucket. The ship unloader provided with lifting hooks can be used for loading and unloading operations for bulk cargo such as steels, bags and woods.
Our stationary ship unloaders are designed and built with single boom structure, which ensures sufficient strength, rigidity, stability and fatigue resistance. The machine features the advantages of rational structures, steady transmission, flexible operation and easy maintenance, satisfying the requirements of operations with hooks and grabs. Within the specified outreach, the maximum hoisting capacity for lifting hook is 40 tons. With such load, the machine can make horizontal luffing and 360o slewing movement. Separate or linked actions of the lifting, luffing and slewing mechanisms are available for the machine.
Our main customers for this kind of machine include Indonesia Power Company in Lombok, Indonesia.