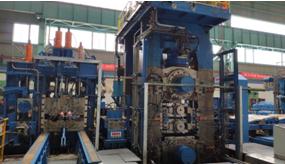 1.Overview
With the development of modern iron and steel industry and the need of international competition, the requirements of domestic and foreign iron and steel enterprises for product quality control are also increasing. As an important part of the iron process chain, the finishing of rolled steel products plays an important role in improving the quality and added value of products in iron and steel enterprises.
NHI cooperates with many superior resources in R & D and manufacturing of complete sets of equipment in steel runout area, focusing on independent R & D, and extensively carries out production into university research cooperation. Through the development of new products, new technologies and new processes in various flexible ways, the mature scientific and technological achievements of domestic and foreign scientific research institutes have been introduced, digested and absorbed before our innovation, many good results have been achieved. Over the past years, NHI has provided steel and iron finishing production lines for major domestic iron and steel enterprises, especially in the market of complete sets of equipment in the runout area of medium and thick sheet material.
2.Composition of the complete equipment
The complete set of equipment in the steel runout area produced and manufactured by our company includes: belt steel finishing and shearing unit, profile steel finishing unit, rolling and shearing unit for medium and thick plates, leveling and winding unit, continuous annealing and pickling unit, rolling and shearing unit for thick plates, finishing and shearing unit for aluminum magnesium nonferrous metals, etc. Among them, the main equipment includes like the section steel straightening machine, cold rolling / hot rolling strip leveling and shearing equipment, medium and thick plate finishing and shearing equipment (rolling type double side shear, fixed length shear, cutting head shear, split shear, etc.), medium and thick plate straightening equipment, aluminum magnesium heavy roll cross cutting equipment, etc.
3.Technical features and advantages
In the manufacturing of complete sets of equipment in the runout area of steel rolling, NHI has rich experience and long-term technology accumulation. Since the 1960s, we have independently designed the key equipment of the shear line pendulum flying shear. In the 1980s, we carried out extensive technical cooperation with the world's top German SMS company to jointly design and manufacture all kinds of shear finishing line equipment. In the following years, NHI actively established alliances with Tsinghua University, Beijing Science and Technology University, Yanshan University, Northeast University, Dalian Technology University and other units to carry out effective cooperation in the design and manufacture of products such as roll cut bilateral shear, roll cut fixed length shear, unequal distance straightening machine, pickling unit, etc., all of them achieved fruitful results and provided strong support for the research and development of steel rolling products, our technical level ranks among the advanced level.
In recent years, NHI has vigorously expanded the new field of non-ferrous metal finishing shear line, broadened the product market and met the domestic demand. We have overcome all kinds of technical problems and won unanimous praise from the users.