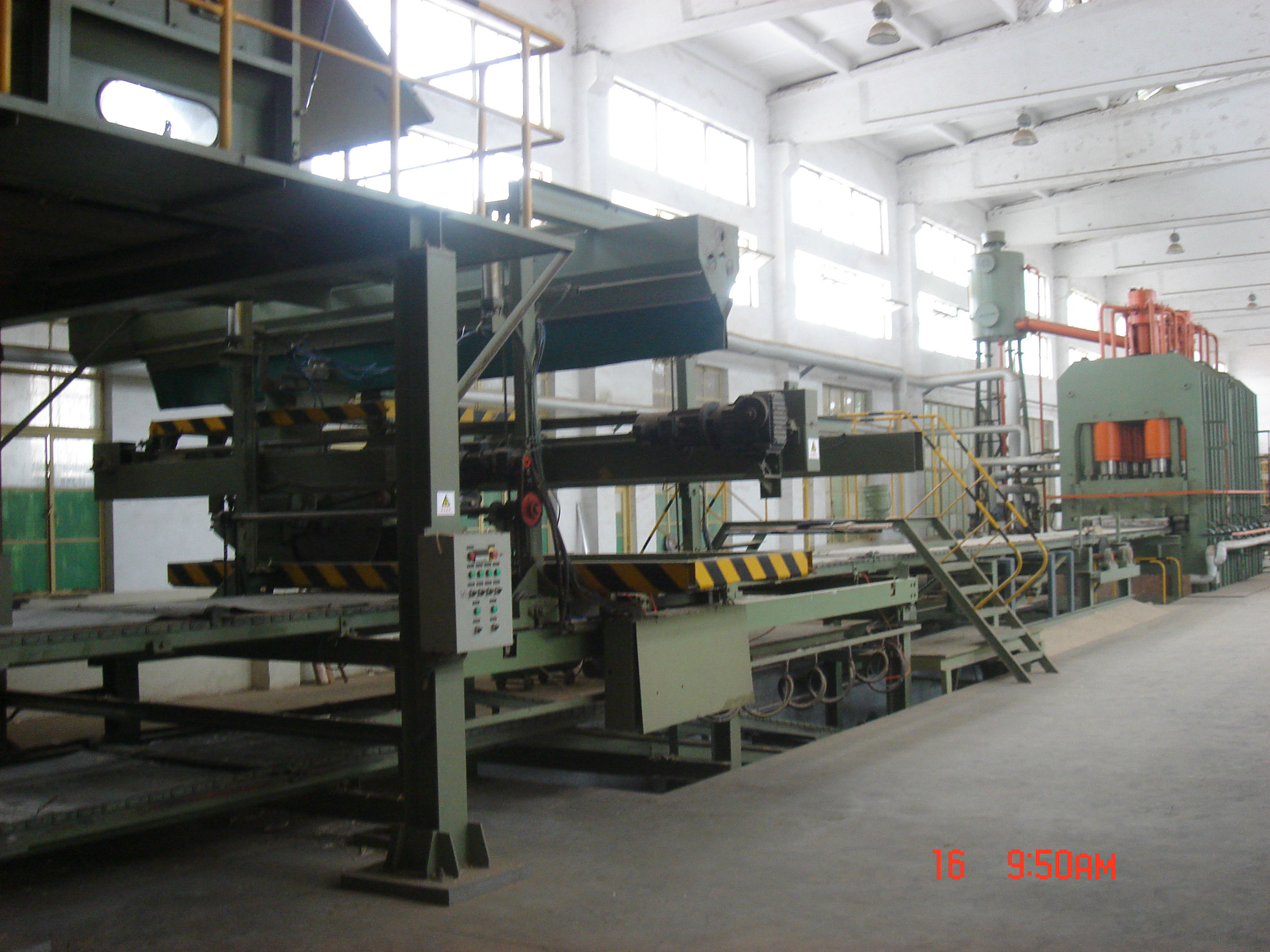 1. General Introduction
The complete equipment of particle board production line is the remainder to deforestation and wood processing residues as raw materials, by cutting piece, slicing, drying, screening, sorting, hot pressing to be the particle board. Our company introduced the technology of particle board production line from BISO Germany, including high precision large surface single-layer hot press, air forming machine and dryer reputation enjoyed the world, advanced technology of metal nets new belt conveying mode etc. which has excellent product quality, high precision, with advanced level.
2. Composition of complete equipment
NHI's complete equipment of particle board includes particleboard airflow spreading machine, mechanical grading type forming machine; three channel drum drier; multilayer hot press, hot press with single large particleboard, medium density fiberboard hot press; loading and unloading machine; pre trigger; prepress, cold plate device, vertical and horizontal sawing machine, round silo; particle board light machine and other auxiliary equipment.
3.Technical features and advantages
Our company has a long history in developing and manufacturing artificial board complete sets of equipment. In 1956, China's first multilayer hot press was designed and manufactured. In the 1970s, China's first annual output of 30,000 cubic meters of particleboard production line was developed. In 1984, the Germany Bison single - layer large - surface particleboard production equipment technology was introduced. In 1992, NHI cooperated with Hong Kong Dafu Group to develop China's first MDF production line with an annual output of 30,000 cubic meters.In 2005, it cooperated with Chinese Academy of Forestry to develop medium-density wheat straw production line and obtained the patent.In 2013, we cooperated with Chinese Academy of Sciences to develop the particleboard production line with normal separation of bamboo shavings.
A number of annual output of 10,000 to 50,000 cubic meters of particleboard production lines were provided in the domestic through the introduction of particle board air - flow installation technology after digestion and absorption, improvement and innovation. At the same time, NHI developed a mechanical classification spreading machine with the annual output of 200,000 cubic meters. Later, NHI developed the vacuum air flow installation for the medium fiber board production line by ourselves, and adopted the unique sinusoidal pulse air flow technology to make it easier to automate the adjustment and control of surface quality and density of slab paving.
The three-way roller shavings dryerfabricated by NHI realized the shavings spiral forward in the roller, so that all kinds of shavings finally reach uniform moisture content. It featured in high efficiency, low energy consumption, maintenance free, and low cost.
The hot press produced by NHI is mainly used in production lines of fibreboard, particleboard, plywood, plastic paste panel, fiberglass, asbestos board, electric board, insulating board, etc. At present, the company can produce 100,000 m3 annual single-layer large-plane particleboard hot press, which can press 18 4 '×8' boards at a time. In addition, we have designed a 6 '×16' multi-layer medium density fibreboard hot press, and developed an ancillary loading and unloading machine, preloading machine with smooth operation and minimumauxiliary time, which has broke through the bottleneck 100 thousand cubic meters of MDF produced by multi-layer hot press.