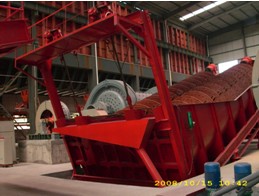 1.Scope of Application
Spiral classifier is a kind of mineral processing equipment that carries out mechanical classification based on the principle that the specific gravity of solid particles is different, so the sedimentation speed in liquid is different. It is mainly used in the pre-classification, inspection classification, ore washing, desliming and other operations in the grinding circuit.
2. Parameter Specification
Model:FG-5/2FG-5~FG-38/2FG-38
    FC-5/2FC-5~FC-38/2FC-38
Spiral Specification Parameter (Dia. mm×Length mm):500×4500~3800×14000
3.Product Introduction
Spiral classifier can be divided into single spiral classifier and double spiral classifier according to the number of spiral shafts, and can be divided into high weir type, low weir type and submerged type according to the height of overflow weir. The high weir classifier is generally used for coarse particle classification, and its upper limit of overflow particle size is greater than 0.15mm. Submerged classifier is generally used for fine particle classification, and its upper limit of overflow particle size is less than 0.15mm. The low weir type is usually not used for grading, and is mainly used for washing ore sand for desliming.
The advantages of spiral classifier are simple structure, reliable operation and convenient operation, which often form a closed circuit with the ball mill.
4.Main Experience Projects
Domestic: Jilin Shanhe Mining, Fuding Dingrui Industry, etc. 115 sets
Foreign countries:Malaysian magnetite and Indian Hematite Projects etc. 18sets.