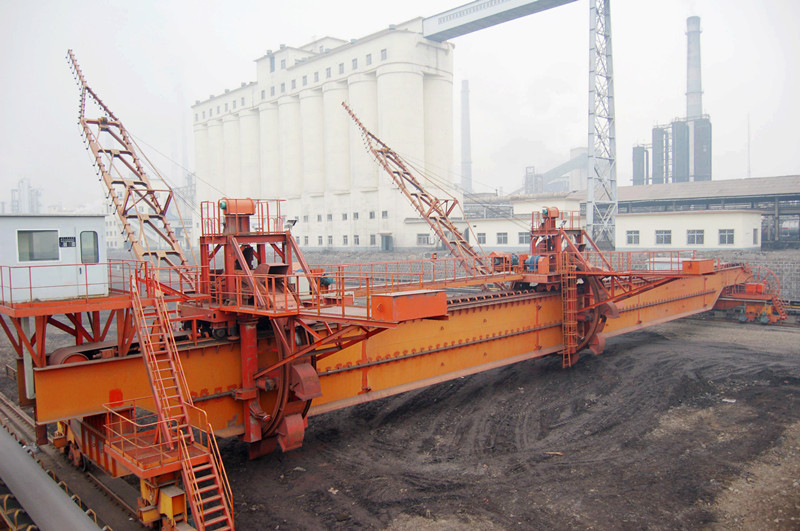 Bridge type bucket-wheel blending reclaimers are an excellent option for blending and reclaiming bulk materials like coal, concentrate and fines in raw material stockyard for fields like iron & steel industry. The reclaimer has the features including good blending effect, large reclaiming capacity and high productivity.
NHI has supplied nearly 100 sets of bridge type bucket-wheel reclaimers for blending & homogenizing yards for iron- and steel industry both home and abroad. The bridge type dual bucket-wheel blending reclaimer, designed and supplied for Tonghua Steel Plant, has the larger bridge span as long as 50 meters to date in China, which has been provided with Second Prize of Liaoning Province New Products and Second Prize of Shenyang Science and Technology Progress Award.The HQL3300/43 bridge type bucket-wheel reclaimer designed and fabricated for Iran Gohar Zamin Project has its reclaiming capacity up to 3300t/h, the capacity reaching to the domestic advanced level. So far NHI has obtained tens of cases respectively for National Invention Patent and Utility Model Patent including Anti Overflow Material Arc Baffle Plate Device for Bridge Bucket-Wheel Reclaimer, Polygonal Wheel Bucket, Wheel Bucket with Anti Frozen Canvas Belt Lining, and Bucket-Wheel Device with High Strength Bucket Tooth.
NHI has provided custom-made products of this kind to numerous clients both home and broad, mainly including Philippines Eagle Plant, Russia Iron Ore Plant, Tonghua Steel Plant, Shagang Group and Chongqing Iron&Steel Group.