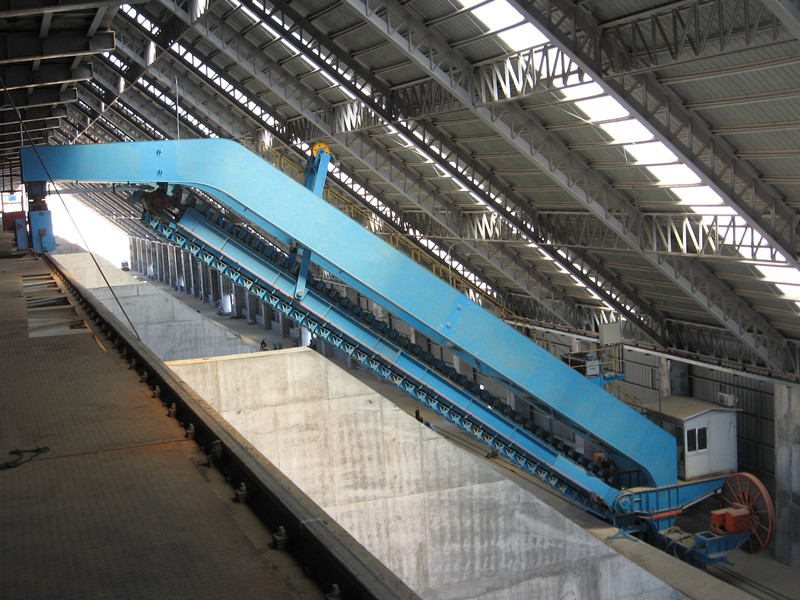 Portal scraper reclaimer can allow for either indoor or outdoor applications in longitudinal stockyards. It has been widely used in coal mines, coal related chemical industry, iron ore mines and power plants. 
The machine can be designed with a wide range of rail gauges (span) including 25m, 30m, 35m, 40m, 45m, 50m, 55m, 60m and 65m. We can offer the reclaimers with the rail gauge specially-tailored to the actual yard conditions. A semi-portal scraper reclaimer is usually used with establishment of a retaining wall and in combination with a travelling tripper. A portal scraper reclaimer is usually used in combination with a side type stacker. The scraper reclaiming system can be either single scraper system or dual scraper reclaiming system. Now the reclaiming capacity of our portal scraper reclaimers can be up to 4000t/h. In addition, we have developed a new portal type side stacker/reclaimer which combines both the stacking and reclaiming functions in one machine.   
Our main customers for this kind of machine include Xingcheng Special Steel, Yongfeng Steel Plant, Jiulong Paper etc.