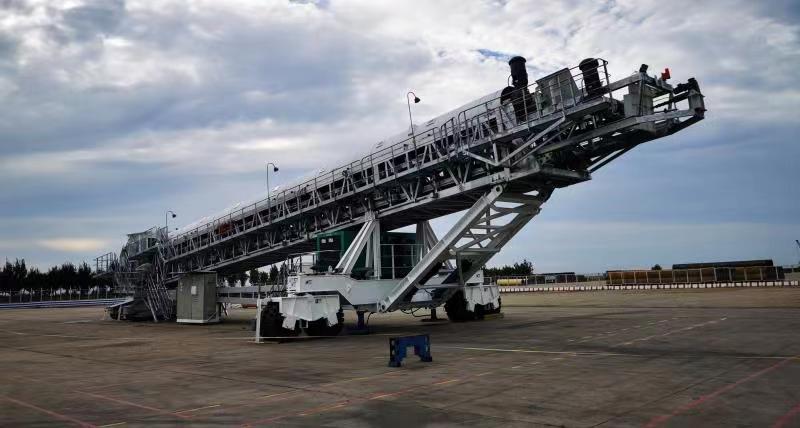 1. Scope of Application
The annular stacker is a kind of process equipment used for stacking various bulk materials to realize storage, discharge and loading. It is used in metallurgy, mining, wharf and other industries.
2.Equipment Process and Structure
The annular stacker is a light, efficient, intelligent and environment-friendly stacker, which is composed of a belt conveyor system, a telescopic boom, a luffing mechanism, a traveling chassis, a hydraulic system, and an electronic control system. The boom's free expansion and luffing functions can meet the requirements of different stacking radius and stacking height. The walking chassis in the form of a rear track and a front tire structure can realize slewing distribution and flexible movement of the whole machine. The diesel generator set can be equipped to realize the automatic relocation of the whole machine.
The equipment can be remotely controlled to achieve safe and intelligent operation. At the same time, compared with traditional stacking equipment, it does not require civil construction.
3. Product Introduction
Our company has developed annular stacker since 2019, and its overall technical level has reached the advanced level in the industry.
Technical features:
Suitable for various bulk materials;
The machine control can realize the integration of mechanical, electrical and hydraulic systems to the unmanned operation of the whole machine.
4. Main Experience Projects
Domestic and abroad project such Japanese iron making project.