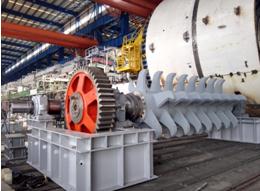 Single tooth roll crusher is to break the hot sinter unloaded from the sintering machine and make the hot sinter cake broken into the size suitable for cooling requirements.
The crusher is composed of transmission device, tooth roller and seal ring, main bearing and bottom base, grate plate and support trolley, spindle piping, dust cover assembly, trolley mobile winch, guide chute and gear roller lifting device for equipment maintenance. The motor drives the tooth roller to rotate through the safety coupling and reducer. The moving trolley with grate plate is placed horizontally under the gear roller.When the hot sinter cake is unloaded from the end of the sintering machine to the guide chute and then slides to the comb plate of the single toothed-roll crusher, the hot sinter cake is broken due to the rotation of the tooth roller with the shear and extrusion action of the crushing tooth. The particle size of the hot sintered block after crushing is less than 150mm, and then it is fed into the annular cooler through large chute.
NHI can design and manufacture a full series of single tooth roll crushers, and we are the drafting unit responsible for single tooth roll crusher industry standards.