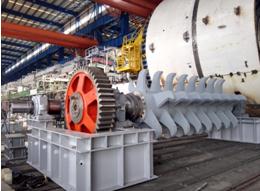 The single tooth roll crusher is one of the key equipment in sintering production. It is installed at the tail of the sintering machine to crush the hot sinter cake that unloaded by sintering machine, so that the hot sinter cake can be crushed into a certain material size.
The single toothed roll crusher is composed of transmission device, main shaft device, main shaft piping, grate plate, support trolley, dust cover assembly, trolley moving winch, guide chute, toothed roll lifting device, etc. The drive mode is that the motor drives the tooth roller to rotate through the reducer that connected to safety coupling. The mobile trolley equipped with grate plate is horizontally installed under the toothed roll. The hot sinter cake is unloaded from the tail of sintering machine to the guide chute, and then slides onto the grate plate of the single toothed roll crusher. The hot sinter cake is crushed by the shearing and extrusion of the crushing teeth when the toothed roll rotates. The particle size of the crushed hot sinter is less than 150mm, and then the material enters the annular cooler through unloading chute.
NHI has design and manufacturing capacity of a full range of single tooth roll crusher, and is responsible for drafting the industry standard of single tooth roll crusher.